CEBX 100/101 SCHABEL CAR KIT
Resin Casting Kit Now Available in HO Scale

The CEBX 101 car and load kits are all-resin casting kits to make the model illustrated. The loads and truck frames (no wheel sets) are sold separately. Coupler pockets are provided for compatibility with most commonly used couplers. Two loads, one simulating a large tube boiler is currently available. Another load simulating a pressure vessel used in power generation will be available shortly.
Concept Models specializes in unique models overlooked by mass marketers. The models consist of resin castings and assembly hardware. Hand grabs, ladders, and related detailing are not provided to avoid dependence on suppliers. Focus is on providing the basis for the modeler to exercise his skill in taking the model to the detail level desired. Instructions are all photo illustrated by an experienced technical writer. Car Kit and load are sold sepately less trucks & couplers.
The car kit is priced at $59.99 MSRP and the Load kit is $34.99 MSRP.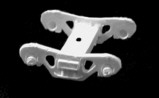 CEBX 101 Truck Frame Kit (3 pr.) $14.99