WECX 102/301 KIT

You may purchase this item through PayPal even if you are not a member of PayPal. Just click on the OK button to start the process.
To Buy this model, Click on Add To Cart - $74.99USD
To complete purchase Click on View Cart.
---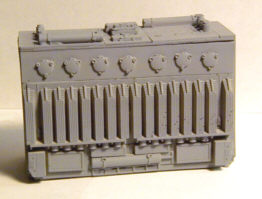 Transformer Load for WECX 102/301 - $24.99
Comes as flat unpainted kit with load mounts.
The model measures 4"L x 2"W x 3"H.
Black Truck Frame Set Kit - 4-wheel and 6-wheels truck frame kits for the 102/301 Car. Requires assembly - No Wheelsets $20.00