This is a kit of parts to build this mammoth flat car kit as a complete model. - $74.99
The kit is sold less trucks and couplers. A truck frame kit cast in white plastic is an option. Loads are sold separately. - $19.99
Prototype Statistics
| | |
| --- | --- |
| Capacity | 991,400 lbs. |
| Light Weight | 468600 lbs. |
| Load Limit | 991,400 lbs. |
| Typical Load | 250 Tons |
| Number of axles (33" wheels) | 40 |
| Car Length | 154' 6" |
.

The kit is limited to basic castings as shown in the photo. Ladders, handrails, and hand grabs are not supplied to avoid dependance on other suppliers.

GEX 80003 model kit - $74.99USD

To Buy this model, Click on Add To Cart

Optional set of truck frames in the above configuration (without wheels or axles) - $19.99
6-wheel truck pictured
To Buy this model, Click on Add To Cart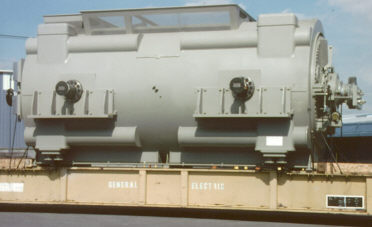 This is a photo of the prototype load.
We never made the above model. You can use the WECX 102/301 Generator kit and get a reasonable generator load with minor modifications to the kit. You can take all the liberties you want with loads since no two loads were ever precisely the same when loaded.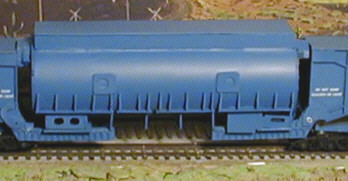 To complete purchase press View Cart.